7 steps to do a full face of glam makeup (including videos!)
I see you girl (or boy)! You're ready to tackle the beautiful world of makeup and looking for tips (and perhaps a tutorial) on how to do a full glam makeup look!
Well, you're in the right place because today, I'm sharing my full face makeup tutorial as well as tips to help you be glam without the overwhelm! *flips hair*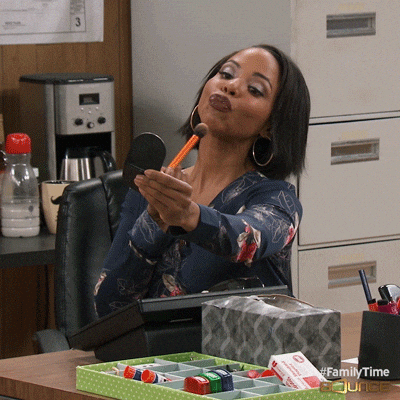 *Disclosure: This post may contain affiliate links, which means that I get a commission if you decide to make a purchase through my links, at no cost to you.
WATCH THE VIDEO TUTORIAL HERE

Side note: I polled my YouTube subscribers on what type of videos they would like to see more, and 25% said MORE easy beauty videos!
Yes, I listen to my audience and I give the people what they want lol! Today, I'm sharing steps to do a full face of glam makeup! If you would like makeup tutorials, be sure to subscribe to my YouTube channel here.
7 steps to do a full face of glam makeup!
Step 0: Prep before makeup application
Before applying your makeup, it's super important that you have a clean face! If I could scream it from the mountain tops, I would! Do not apply makeup on top of dirty skin!
Why should you wash your face before applying makeup?
When you're sleeping, you transfer bacteria (dirt, hair, dust, dead skin, crust from your eye, etc.) to your pillow. The bacteria on your pillowcase can transfer to your skin, making it more prone to breakouts or acne over time.
Facial oils and dirt can also accumulate on your skin overnight, which can clog pores and lead to acne.
Makeup won't last as long if you don't cleanse first because the oils in the foundation or bronzer will mix with dirt, sweat or oil from your skin.
Before applying makeup, I recommend washing your face and moisturizing with an oil-free facial lotion. Here's a post where I share how to build a healthy facial regimen for beautiful skin.
Additionally, you want to make sure you're using CLEAN makeup brushes and sponges. If you're not washing your makeup brushes, you're basically exposing yourself to all sorts of dirt and bacteria (ewwww!)
A common misconception that many people have about brushes is that the bristles on brushes are so tightly packed together that they can't possibly contain any bacteria.
However, this is not true at all because the bristles have a lot of space between them and they can trap a lot of bacteria inside them. You should be cleaning your makeup brushes at leasttttttttt once per week if you're applying makeup weekly.
Step 1: Primer
You might have heard of a primer, or maybe you even own one, but you aren't quite sure what it is supposed to do.
Primers are makeup products designed to be applied on the face before another makeup product (like concealer, blush or foundation).
Primer creates a layer that acts as a base for your makeup products and helps the other products adhere to the skin better thus creating a longer lasting effect and also create an even base which results in better looking skin.
There are different types of primer, some suitable for eyes, some for lips and some for all around the face. Depending on what you want to use it for, you will have to choose the right consistency.
There are even primers that are oil free for those who have oily skin. You can find these products in stores or online.
Once you start to use a primer, you will notice the difference immediately as the makeup should be easier to apply and/or will stay on longer.
There are different types of primer, some suitable for eyes, some for lips and some for all around the face. Depending on what you want to use it for
Step 2: Foundation
Perhaps one of the most important part of your beauty routine would be face foundation makeup. Foundation makeup is a skincare product that gives you an even tone and complexion which also makes it look like you have flawless skin minus any imperfections such as blemishes, acne scars etc.
What is foundation?
Foundation makeup is a cosmetic product, either liquid, powder, or cream, that gives your skin tone an even appearance while evening out flaws on your face. It can be worn alone for light coverage or together with another type of makeup application to get full coverage.
However, always remember that wearing foundation makeup does not mean you have to cake on the product on your face.
In fact, caking up your face with layers of makeup is a big NO if you want to look natural and fresh all day.
Also, just because you're wearing foundation does not mean that you should neglect your skincare routine.
Remember to go in with sunscreen and moisturizer before applying foundation makeup because you want a flawless base to put the product on.
Remember to go in with sunscreen and moisturizer before applying foundation makeup
How to apply foundation
There are many different types of foundation makeup. It's important to know the basics when it comes to applying face foundation in order to get that flawless look.
Depending on your preference, whether you want full coverage or light coverage, here are a couple of ways on how to apply foundation:
Tips for applying full coverage makeup
Sweep on a small amount of cream foundation with your fingers, brush, or sponge and apply on areas you want to cover like your entire face, then blend into the skin by tapping the product into it.
Take some more foundation and apply to areas you want to cover even further. Remember, you want to apply a little foundation at a time. You can always apply more makeup but it's so difficult to have to remove makeup for less!
Finish off the look with a powder foundation and sweep it on for that matte finish and flawless skin.
"You can always apply more makeup but it's so difficult to have to remove makeup for less!"
How to apply light coverage makeup
Light coverage foundation is great for everyday wear because it gives some coverage but it doesn't look like you have foundation on your face which is why it's perfect for day time.
Apply a small amount of liquid or cream foundation to your entire face and use a sponge (I love the beauty blender!) to blend the product onto the skin evenly.
To touch up, use pressed powder (matte finish) with a powder puff and again, apply in an even manner onto the face
Step 3: Brows
Filling in your eyebrows with makeup may seem like a daunting task, but it can actually be pretty easy. You don't need expensive products to achieve the look you want; there are inexpensive alternatives that work just as well.
And using makeup to fill in your eyebrows doesn't mean sacrificing their natural appearance; there are many techniques you can use to make them look more natural.
Tips prior to filling in your eyebrows
Before you begin filling in your eyebrows with makeup, be sure to have a good eyebrow produce such as a pencil, powder or eyebrow gel (sometimes referred to as a brow pomade).



A good brow product should neatly fill in any sparse areas and produce a more defined look. It's important to get an eyebrow product that closely matches the color of your eyebrows; this isn't a time to play around with colors.
Next, you'll need a makeup brush. Using a slanted makeup brush can provide more control while applying makeup to your brows.
You may find it helpful to have tweezers on hand, too. Tweezing any stray hairs can help you achieve a more symmetrical look.
How To Fill In Your Eyebrows With Makeup
There are many ways to fill in your eyebrows with makeup, depending on how much time you have and whether or not you want to adjust the appearance of your natural brows.
If you do choose to make alterations, be careful not to go overboard; it's easy to create an overdone look that will only serve to emphasize the fact that your newfound eyebrow thickness is artificial (unless having Oscar the Grouch eyebrows is your thing).
Tips when filling in your brows
Follow The Natural Curve Of Your Brows And Fill In Sparse Areas
Using a brow pencil, gel or powder, fill in any sparse areas of your eyebrows following their natural curve.
Using a slanted makeup brush, apply an eyebrow powder in small downward strokes following the shape of your brows.
Be sure to lightly blend the powder to avoid a harsh appearance.
Also, remember that eyebrows are sisters, not twins. Your eyebrows will not match perfectly because your natural brows don't either. Try to make them look as close as possible but don't become obsessive if they're not identical twins.
Eyebrows are sisters, not twins. Your eyebrows will not match perfectly because your natural brows don't either.
Choosing A Brow Product That Matches Your Hair Color
When filling in your eyebrows with makeup, it's important to choose a product that closely matches the color of your eyebrows IF you want them look more natural.
Optional: Use An Eyebrow Highlighter To Add Dimension
Before filling in your eyebrows with makeup, apply an eyebrow highlighter to the arch of your brow using a slanted makeup brush. This will bring out your facial features that are otherwise not visible.
Using makeup to fill in your eyebrows doesn't have to be time-consuming or complicated. By following these simple tips, you can achieve the eyebrow look that best flatters your facial features.
And there are many different types of brows — thin, bushy, straight across, arch-less — so don't think that you'll need to draw on the same eyebrows every day. Experimenting with various eyebrow shapes and filling in techniques can help you discover which style you like best!
Step 4: Eyes (eyeshadow, eyeliner & then mascara)
Eyeshadow first, then eyeliner, and then mascara… in that order! If you want to apply eyelashes, apply after mascara.
Eyeshadow:
Eye shadow is applied to the eye area to make it look brighter and create depth. There are many different shades, textures, formulas, finishes, and types of eye shadow available.
Eye shadows can be applied with an applicator or with fingers in order to create various looks.


How to Apply eyeshadow:
Eye shadow is a great way of making your eyes stand out. I have a ton of different eyeshadow looks on my channel but here's a super simple 3 eyeshadow look that I rock often and always get compliments on!
You don't want to apply too many eyeshadow colors as the more colors you apply, the harder it is to blend.
I recommend sticking to no more than 4 shadows! One for your lid, one for your crease, over for your outer V that will add dimension, and one for brow bone to add some depth!
Eyeliner:
Eyeliner is a makeup item that is used to darken the eyelids, make them appear larger, or give an illusion of more depth in eyes.
Eyeliner can be applied with an eye pencil, liquid liner, or brush.
Liquid liner tends to be the most popular type of eyeliner for experts because it creates a very dramatic look with just one layer.
However, some people find it difficult to use and may prefer eye pencils that are easier to apply. The brush type requires more time and skill because you need to create a line so thin that it looks like it's painted on.
The most important thing when applying any type of liner is your technique.
Eyeliner can be applied in various ways. It can be drawn on with an eyeliner pencil that has been shaped into a point or brush for more control over thickness and length.
It can also be applied with an eyeliner brush which is typically used with cream or liquid liner.


The most important thing when applying any type of liner is your technique.
How to apply eyeliner
Prep your eyes for liner
Before you begin, make sure your hands are clean and the area is clean so the liner doesn't get on anything other than your face.
Also, always be aware of how much pressure you're using when applying eye liner so it doesn't hurt or irritate your eyes.
Choose an eyeliner style and color
Next, choose how you want your liner to look and what color you will use. For line thickness, the general rule is that lighter colors should be used for a thin line while darker colors are usually used for a thick line.
Apply the eyeliner to your lashline
The next step is to apply the eye liner to your lashline. Begin by looking straight ahead, holding your eyeliner at a 90-degree angle with how you want it to look when finished being applied.
Then, use slow strokes that are consistent to how you want your line to look. Remember Practice makes perfect!
The most important part of how to apply eyeliner is practice, practice, practice! Before you can master how to perfectly apply eye liner, it takes time and patience.
When it comes to applying a full glam face of makeup, remember practice makes perfect!
Mascara
Mascara is a cosmetic used to define and enhance the appearance of eyelashes. It can also cover up eyeshadow dust that has gotten on eyelashes.
How to apply mascara:
To apply mascara, start by putting your mascara bottle on the back of your hand to warm it up to room temperature. This will prevent bacteria from forming in the mascara tube.
Next, hold the mascara at the base of your lashes with one hand and pull the wand through your lashes from root to tip.
When applying mascara to your bottom lashes, do so from the outer corner inwards towards the nose. And when applying mascara to your top lashes, start at the root of your lash line and pull mascara from there toward the tip of your eyebrow.
Mascara should always be applied as the final step in your routine. Always start with mascara last.
Optional: Fake Lashes
Do you want to flutter your lashes and go from drab to fab in a jiffy?
Fake eyelashes are the perfect way to do that. You can choose from strip lashes or individual ones, depending on your preference and style of makeup.
Both types come with their own advantages and disadvantages (and tips), so here's how to use them to your advantage.
Tips before applying fake eyelashes
Read the label on your fake lashes carefully before you use them. Some lashes need to be trimmed down after they've dried, while others are ready to wear out of the box.
Check if adhesive is included or if it has to be purchased separately, too. If the latter is the case, get a lash glue which is made especially for fake lashes and follow the instructions for best results.
If you're using strip lashes, remove them from the box carefully to avoid damaging them.


How to apply fake lashes
Place them on top of your lashline with the ends pointing inwards, towards the nose.
If you want a more subtle look, cut them shorter or leave a gap of a few millimetres between the lashes and your own.
If you're using individual lashes, apply lash glue on your natural lashline and let it dry for 20 seconds before you stick them on.
Apply pressure at the ends for a minute or two to make sure they adhere properly. You can also use an eyelash curler to give the falsies a natural look.
If there is too much glue, or if your lashes are sticking together, use a cotton bud with makeup remover on it to separate them.
Also, never pull your false lashes off without first using an oil-based makeup remover. It will ensure that you get every last bit of residue off your lashes.
It will take some time to get used to wearing false lashes, but once you do, you'll never want to go back!
It's important that you allow the glue on your lashes to dry before attempting any strenuous activities like working out or gardening, just in case it comes into contact with your eyes.
It goes without saying that false lashes may not be very comfortable to wear if you're a beginner at wearing lashes, so if all else fails, mascara to your real lashes are still a great way of creating an instant glamorous look!
Step 5: Concealer (Apply concealer and set the concealer with power)
I use a beauty blender to blend out my concealer. I like to apply my concealer in a triangle shape and then blend it out.
Then I take a little setting power and apply it under my eye to help increase the longevity of my concealer. I allow that power to sit under-eye no more then a minute before I wipe off. This is what we call "baking" in the makeup game.

Step 6: Contour and highlight?
I personally like to contour my face as it makes my face look thinner and my cheekbones pop. Contouring is strategically adding darker colors to your face to create a shadow. If you find your makeup looks flat, contouring can help!
Opposite of contouring is highlighting where you apply light colors to your face to draw attention to it! I like to add a highlight to make my skin look like it's glowing! I apply on top of my cheekbones.
What is Contouring?
Contouring is the use of makeup to shade, highlight or define facial features. Also known as shading, it can be used on both the face and body for cosmetic effect.
Contouring is generally achieved by using two shades of makeup. A darker color that creates shadows and a lighter color that creates highlights.
Contouring is ideal for creating chiseled features, slimming down a large nose, slenderizing the jaw line or adding more definition to cheekbones.
Today, contouring has become extremely popular among celebrities and other people who frequent TV shows, fashion magazines and social media websites.
Many makeup artists have become adept at using a number of different shades and tones to give their clients a more defined look, accentuating what is perceived as beautiful.
So what is Contouring? It's basically what its name implies; shading what you want to hide (shadows) while highlighting what you want to stand out (highlights).
How do I Contour?
Contouring can be done with the use of both powder & cream. However, to achieve the best result, you will need a light hand and a little practice to prevent looking like a clown.
Here's what you'll need:
A matte bronzer or contour powder – usually found in earthy tones such as taupe, grey or brown.
A matte powder highlighter – usually found in cream, pink or gold tones.
A angled contour Brush (Optional)
To discover what areas you should be focusing on, hold a small mirror in front of your face to see what features catch light naturally or what angles are particularly visible.
When it comes to contouring, what's the best color for what?
The appropriate color choice depends on the desired result.
For instance, if you want to sculpt or slim down your cheeks bones then use a darker shade of bronzer; if you want to make your features appear more angular and prominent, use a deeper shade of powder along the cheeks and the jaw line; and if you want to add more light and lift your face, use a highlighter on areas like the cheekbones and bridge of the nose.
Colors that are most helpful when contouring:
Bronze/Brown: Good for adding depth along with sculpting; works great on most skin tones.
Pink: Ideal for adding a subtle highlight; especially effective on fair and pink undertones.
Peach: Great with yellow/olive tones; works well to enhance high cheekbones.
Gold: Best for light to medium skin tones; can give an overall healthy glow.
Silver/Gray: Good for defining sharp edges of the face; works well on cooler undertones.
What are the best products to use?
When it comes to contouring, the most important thing is using a matte bronzing powder or contour powder with a shade that complements your skin tone.
For instance, if you have very dark skin then choose a darker shade of bronzer; if you have very fair skin then use a lighter one. In general, it's best to choose a formula that is as close as possible to your natural skin tone.
Next up, you'll need a powder highlighter or luminizer that complements your skin tone as well. If you have dark skin, avoid those with shimmer and opt for something matte; the same thing goes if you have very fair skin. You can play around with different formulas, but generally speaking, powder tends to look more natural than cream or liquid highlighters.
What products should I avoid?
When it comes to contouring, skip products with sparkles and/or shimmer because this might make it look like you put on an extra layer of foundation. Also, steer clear of products with glitter particles because they tend to be more prominent when applied onto the skin. Finally, stay away from creamy highlighters and look for something that is powdery.
How do I know how much to apply when it comes to highlighting and contouring my face for glam makeup?
Contour lightly; too much can make you look dull, dusty or dirty. Use a light hand and layer up if you feel you didn't get the result you desired.
What are some mistakes to avoid when it comes to highlighting and contouring my face for glam makeup?
Avoid applying too much. This can easily happen when using cream products, so always remember that less is more when it comes to contouring.
Another common mistake is choosing the wrong color for your skin tone. To avoid it, choose a formula that is closest to your natural skin color.
How do I know when I've applied too much?
If you feel like you look dirty or dusty then chances are you're using too much product. If this happens, just apply the same amount of bronzer/contour powder over the cream or liquid highlighter.
Another mistake is choosing the wrong color for your skin tone. To avoid it, choose a formula that's closest to your natural color.

Step 7: Blush
Blush is what gives color to your face. A pop of color on the cheeks in a contrasting shade really makes your pretty facial features stand out.
I use to think blush was not made for women of color but I was going about it wrong!
Women of color can use blush to add that sunkissed look to their face, however, If you're darker, I recommend investing in blush colors such as burnt orange, dark red and shades of cranberry.
There are many ways to apply blush to your face. Here is the easiest way to apply blush!
How to apply blush to your face:
Step 1: Get an idea of where you want your blush by looking at yourself in the mirror. You want it on your cheekbones and below your eyes, if you're using it as eye shadow too.
Step 2: tap lightly into the blush. Don't apply a lot of blush to your brush! You only need a littlea and it's much easier to apply more blush if you need it than to apply to much and have to rub it off
Step 3: Use the brush to dust blush all over the apple of your cheeks
To make sure that the blush goes where you want it to go, try using a small brush with short bristles. You can also use your fingers by holding it vertically against the cheekbone and then sweep the bristles down onto the apples of your cheeks. Don't forget to blend!


Step 7: Lip product
Lipstick, lipgloss, chapstick… whatever you decide but I like to apply my lippie last so I use lipstick!
There are two main ways of applying your lip color: applying it directly from the bullet and applying it with a lipstick brush.
You definitely can't go wrong when using lipstick brushes or lipstick directly from the bullet; however, the application process may be different depending on which method you use.
Lipstick application is one of the simplest yet most effective ways to achieve the perfect pout.
How to apply lipstick:
Step 1: Start by applying a lipstick that you enjoy and that suits your skin tone.
Step 2: Apply the lipstick with a brushor directly from the tube.
Step 3: Start at the outer edge of your upper lip and work your way inwards, using as few strokes as possible. Repeat this step on the other half of your upper lip.
Step 4: Now apply color to both lips by drawing a line along their inner edges. Be sure to start at the center of both lips and work outward, making sure you cover all areas where you want color.
Step 5: Finally, blend out
Common Questions About Full Glam Makeup:
What does glam makeup mean?
Glam makeup is a makeup style that is all about the glossy, shimmery, luminous look. It can be achieved with any type of makeup – liquid, powder, or cream.
Achieving the perfect glam makeup is all about picking the right shades for you skin tone and highlighting your best features. This will enhance your natural beauty and emphasize your eyes with eye shadow or liner in order to bring them forward in the face.
The most important part of glam makeup is how it looks when light hits it. That's why you need to carefully pick out blush, lipstick and highlighter shades to make sure they are reflective enough to create that perfect shine when light hits them!
What do you need for full glam makeup?
Primer (optional), Foundation, concealer, eyebrow product, eyeshadow, contour product, highlight product, lip color, and setting spray (optional)
You will also need makeup brushes and a sponge.

What is the first step of glam makeup?
Cleaning your face with a cleanser and using a great moisturizer is the first step to glam makeup.
What are the best makeup tutorials on YouTube?