19+ Best black men beard care products for 2023
A black man's beard is different from any other type of men's facial hair due to the texture, density, and coarseness of our hair, which means the products that work for us are usually different too. Today, I'm covering the best black men's beard care products so your beard can be in its best condition ever.

Additionally, I've highlighted black-owned beard products.
Let's begin…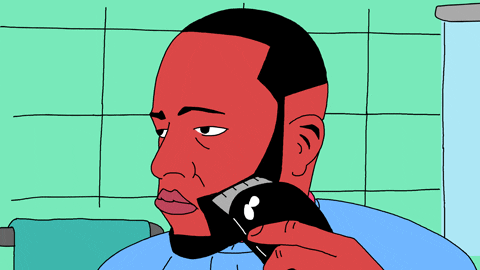 19+ Best black men beard care products
Let's start with maintaining your beard so it can flourish! Here are the best beard care for black men products:
Best beard oil for black men
What is beard oil?
Beard oil is a grooming product designed to nourish and hydrate facial hair.
To use beard oil, simply place a few drops in your hand and massage it into your beard. If you have a longer or thicker beard, you can use a comb to evenly distribute the oil.
The EverydayHustle Beard Oil

This is a black-owned brand.
Get this at: Amazon
Why we like it: This premium oil was specifically created for black men and was created by a black man. This oil reduces dryness, adds shine, and hydrates, without any harsh chemicals.
Best beard moisturizer for black men
What is a beard moisturizer?
A beard moisturizer is a lotion or cream that helps to condition your beard and keep it moisturized… because who wants a dry beard? Um, nobody.
After washing your face, massage the moisturizer into your beard by hand or with a comb to distribute it evenly.
Scotch Porter Beard Serum
This is a black-owned brand.
Get this at: Amazon
Why we like it: The Scotch Porter Beard Serum is the perfect product for black men looking to keep their facial hair healthy and looking its best.
With a blend of organic jojoba and argan oils, vitamin E, and plant extracts, this serum helps to soften, strengthen and restore the hair.
Best beard wash for black men
What is a beard wash?
Beard wash helps to clean your beard by removing dirt and excess oil.
Unlike shampoo, a beard wash is specifically designed to clean your beard, which usually is coarser hair than the hair on your head.
To use a beard wash, wet your face and then pour the wash into the palm of your hand (don't overdo it. 1-2 pumps is usually enough).
Lather the wash into your beard and on your face, and then rinse with warm water.
King C. Gillette Men's Beard and Face Wash
This is a black-owned brand.
Get this as: Amazon
Why we like it: King C. Gillette Men's Beard and Face Wash is a revolutionary product specifically designed for black men who want to take their daily facial grooming routine to the next level.
The unique blend of natural ingredients, including activated charcoal and tea tree oil, is proven to reduce the appearance of ingrown hairs, razor bumps, and dry skin.
This facial wash is also enriched with aloe vera and Vitamin E to soothe the skin and leave it looking refreshed.
Best beard dye for black men
What is a beard dye?
Beard dyes camouflage gray hairs by dying the hair one uniform color. It can also help beards look fuller.
Be sure to use the directions on the box when it comes to dying your hair.
Just For Men Mustache & Beard
Get this at: Amazon
Why we like it: Just for Men Mustache & Beard Dye is specially formulated to care for the unique needs of African American facial hair.
The advanced dye formula blends grey and restores natural color, allowing Black men to enjoy a fuller, healthier-looking beard with natural-looking results.
With its specially designed brush and precision tip applicator, Just for Men Mustache & Beard Dye offers an easy way to keep facial hair looking fresh and groomed.
Best beard trimmer for black men
Keep your beard looking its best but trimming unruly hairs, shaping your beard, and ensuring your beard is a length that works for you.
As black men, we have thicker and coarser hair, so it's vital to choose trimmers that work on and for our hair.
Bevel Trimmer for men
This is a black-owned brand.
Get this at: Amazon | Best buy
Why we like it: Unlike other facial hair trimmers, Bevel has been specially crafted to be gentle on sensitive skin and is ideal for styling and shaping all types of facial hair for black men.
The unique design of the blades provides an even trim, allowing you to achieve the look you desire. It also features a rechargeable battery and an ergonomic design for easy use.
Best beard butter for black men
A beard butter is similar to a beard oil as it moisturizes and hydrates your beard. However, it's a cream (literally butter) texture, so beard butter can also assist in providing a light hold.
Black beard Brigade Premium Classic Beard Butter
This is a black-owned brand
Get this at: Amazon | Etsy
Black Beard Brigade's Premium Classic Beard Butter is the perfect choice for any black man looking to condition and nourish his beard.
This unique formula is made with natural plant oils, beeswax, and shea butter that work together to hydrate, soften, and strengthen each strand of facial hair.
This butter tames frizz and flyaways, reduces itchiness, and promotes healthy beard growth.
Best beard softener for black men
Is your girl (or guy) complaining that your beard feels like whiskers or a brillo pad? Nah, bruh. You and they deserve better lol.
A beard softener helps to hydrate and nourish your beard by replenishing moisture in your hair and skin under the beard.
Bevel Beard Softener
This is a black-owned brand.
Get this at: Amazon | JCPenney
Why we like it: Bevel Beard Softener is an essential grooming product for black men. It is designed to keep beards soft, healthy, and well-maintained.
This product helps to nourish the beard with natural oils, moisturizing it and helping to maintain its shape.
Along with this, Bevel Beard Softener is an easy-to-apply formula that leaves the beard feeling soft and manageable.
Best beard leave-in conditioner for black men
Leave-in conditioners come in many forms, including creams, sprays, gels, and lotions.
However, the goal is a beard leave-in conditioner is to help replenish moisture, remove or reduce tangles and soften your beard hair.
Scotch Porter Leave-in beard conditioner
This is a black-owned brand.
Get this at: Amazon
Scotch Porter Leave-in Beard Conditioner is an all-natural, nutrient-rich product designed to help black men take their beard game to the next level.
This lightweight formula helps nourish and revitalize the hair and skin beneath it, resulting in a strong, healthy, and well-groomed look. I
It's powered by Certified Organic ingredients like Aloe Vera Juice, Argan Oil, and Shea Butter to promote a well-hydrated beard that's soft to the touch.
Additionally, Scotch Porter Leave-in Beard Conditioner helps reduce beard itch and irritation while improving overall manageability.
Scotch Porter Leave-in beard conditioner spray
This is a black-owned brand.
Get this at: Amazon
This lightweight, water-based formula works to condition and protect the hair, helping to reduce breakage, itchiness, and dryness while still allowing your beard to look natural.
Best shaving kit for black men
Black men have to be extremely careful when it comes to shaving as we are prone to painful hair bumps and in-grown hair.
So if you do need to shave, it's essential to use products that will help reduce or eliminate these issues while giving you a great shave.
Bevel Shaving Kit
This is a black-owned brand.
Get this at: Amazon | Target
Why we like it: Bevel is a revolutionary shaving kit designed specifically for black men.
This kit includes an advanced razor, pre-shave oil, shaving cream, and a restoring balm — everything needed to keep your beard looking its best. With Bevel, you'll get the closest shave of your life while protecting and nourishing your skin.
Use a shaving gel that is specially formulated for black men as this will help reduce friction and protect your skin while you shave.
Best Beard balm for black men
A beard balm moisturizes and conditions your beard while also allowing you to style your beard. It's similar to beard oil, but because it comes in a wax texture, you can style your beard better.
Sauce Authentic Beard Balm

This is a black-owned brand.
Get this at: Amazon
What's the black beard balm? Sauce Authentic Beard Balm is the perfect balm for black men to keep their beards looking smooth, soft, and healthy.
The unique formula is specially designed to nourish and moisturize your beard while keeping it under control.
The special blend of natural oils like jojoba, almond, and argan are combined to give your beard the perfect balance of hydration and hole while taming even the unruliest of beards.
Best beard Detangler for black men
Is your beard knotting up? Trying to brush or put a comb through it, only to get resistance? This is where a brush detangler comes in.
Simply apply a dime-sized amount to the palm of your hair and massage it into your beard, ensuring to cover all of your beard hairs.
From there, take a comb and go from root to ends slowly.
Shea moisture full beard detangler
Get this at: Amazon | Sally Beauty
Why we like it: Shea Moisture's Full Beard Detangler formula contains shea butter, cocoa butter, and other natural botanicals that work together to create a lightweight, non-greasy product that softens and conditions hair.
The lightweight formula detangles and defines facial hair while protecting it from breakage and split ends.
Plus, the natural ingredients help keep the skin beneath your beard healthy and hydrated. Additionally, shea moisture does offer a shea moisture beard kit which includes this detangler.
Best Beard pomade for black men
A beard pomade is excellent for defining your beard texture. If you want your waves, coils, or curl beard texture to pop when it comes to your beard, a pomade will help define the texture.
Bevel beard pomade
This is a black-owned brand.
Get this at: Amazon | Ulta
Why we like it: This top-of-the-line formula is specifically designed to provide lasting hold and nourishment that will help condition your beard while providing a medium-shine finish.
Best brush for black men's beard
A beard brush is necessary for anyone with a beard because it helps to tame beard hairs, remove dirt, and distribute products within your beard,
Transparency moment: I and my team are still undecided on the best beard brush and comb set for black men.
One of the biggest issues we're seeing is quality control and inconsistency with the same brush sent to different people.
So with that said, if you know a brush and comb set that you highly recommend for black men, let me know in the comments!
So, for now, I'm going to share the best brush and comb set as of now based on personal experience and a number of high reviews for all men (not just black men)…
Grow-a-beard brush and comb set
Get this on: Amazon
Why we don't love it: My biggest issue with this brush is it's not great for those with longer beards, and the bristles may not feel thick enough for you. This brush and comb set is better, in my opinion, for those with shorter beards.
Best products for ingrown hairs for black men
What is an ingrown hair?
Ingrown hairs are a common and annoying issue for black men. These irritating bumps occur when the sharp tip of a hair becomes embedded in the skin and curls back on itself instead of growing outwards.
These ingrown hairs can become infected, resulting in redness, pain, and even scarring.
Although shaving is often a cause of ingrown hairs, there are some steps that can be taken to prevent them.
Best facial scrub for black men
Facial scrubs work by gently exfoliating away dead skin cells, allowing hair follicles to breathe and reducing the risk of ingrown hairs.
Scotch Porter Exfoliating beard and face wash

This is a black-owned brand.
Get this at: Amazon
Why we like it: Not only does this product help cleanse away dirt, grime, and sweat, but it also exfoliates the skin beneath facial hair to help reveal a softer and smoother texture.
Formulated with natural ingredients like Aloe Vera, Jojoba Oil, and Vitamin E, this face wash helps to nourish and condition the skin while keeping it clear of impurities.
Best beard gel for ingrown hairs for black men
What is a beard gel?
A good beard gel formulated for in-grown hairs will help to soothe hair-bumps and prevent in-grown hairs from occurring.
To use beard gel, simply apply a dime-sized to your palm and massage it into your skin fo a minute to ensure the gel penetrates your skin.
LAVO Tea Tree Gel w/Salicylic Acid
Get this at: Amazon
Why we like it: Tea tree and aloe vera are two powerful natural ingredients that have many benefits for skin health, especially when it comes to treating ingrown hairs in black men.
Tea tree oil helps to reduce redness, inflammation, and itchiness caused by ingrown hairs, while aloe vera helps hydrate and soothe the skin.
Applying these ingredients topically on a daily basis can help prevent ingrown hairs from forming in the first place.
Best facial brush for ingrown hairs for black men
Using a facial brush or face scrubber can be a great way to prevent ingrown hairs and exfoliate the skin.
When using a silicone face scrubber, make sure you apply your cleanser or exfoliant before using the scrubber. This will ensure the product is evenly distributed across your face and allow for a deeper cleanse.
Then, gently move the scrubber in circular motions across your face, avoiding any sensitive areas, such as around the eyes.
Get this at: Amazon
Why we like it: Using a silicone face scrubber is an easy and effective way to get your skin feeling soft, refreshed, and smooth.
The silicone bristles on the scrubber gently exfoliate the surface of your skin, getting rid of any dead skin cells and clogged pores which can prevent ingrown hairs.
The silicone material also ensures a deep and thorough cleanse, leaving your skin feeling refreshed and revitalized.
The Best beard growing products for black men
Best beard growth kit for black men
A beard growth kit should help stimulate new hair growth and activate hair follicles. It can also help to thicken your current beard.
Gold beards growth kit
This a black-owned brand
Get this at: Etsy
Why we like it: This kit includes beard butter, beard growth oil, their signature roller brush, and a comb to help promote beard hair growth.
Best beard growth oil for black men
A beard growth oil is designed to promote beard growth. While beard oil alone won't have you going from baby face to a lumberjack beard (gotta be realistic!), it can help facilitate hair growth and nourish hair follicles which will promote beard growth.

Flawless and Spotless Rapid Beard Growth oil

This is a black-owned brand
Get this at: Etsy
Why we like it: This beard oil is made of 100% natural oils and absorbs quickly into your beard and skin, giving your beard a smooth, soft, subtle shine.

Best beard growth vitamins for black men
Disclaimer: I'm not a doctor, and I'm not giving you medical advice, nor am I able to.
Beard growth vitamins usually contain ingredients like collagen and biotin, which promote hair follicle growth through proteins and amino acids.
Rainbow nutrients hair + beard growth vitamins
Get this at: Amazon
Do you need all of these products?
NO. You do not need to buy nor use all of these things.
Pick a few products to keep your beard healthy (including a beard wash) and a few products that address any beard concerns or problems you may have.
For example, if you suffer from in-grown hair, then purchasing a facial exfoliator to eliminate the hair pumps makes sense.
The goal of this article is to highlight products to keep your beady healthy and products to help you if you're having beard issues or concerns with your beard.
As a final disclaimer, you do not need 900 products to take care of your beard.
Here are a few essential things you do need for your beard:
How to keep your beard looking good
We've discussed some of the best and most top-rated products from Black men when it comes to beard care. Now, let's cover some ways to keep your beard looking great!
Clean your beard regularly.
Your beard will collect dirt and oil, so it's essential to clean your beard regularly. Whether you're keeping it short or long, the facial hair should be washed with shampoo at least once a week (but you should be washing your face daily!).
For longer beards, you should use a conditioner as well. This will help keep your beard soft, moisturized, and healthy.
Give your beard some steam
Did you know your beard loves steam?
Steam can be an important part of the process, as the steam helps to open up your pores, soften and hydrate your hair, and reduce irritation.
Steam opens your hair cuticle, allowing products to penetrate your hair shaft better and thus allowing your beard to feel softer.
In order to get the benefits of steam, you can take a warm-to-hot shower and get the steam benefits that way.
Another option is using a steaming machine.
Aside from using a steamer specifically made for beard care, you can also use warm water or moist towels as an alternative. Be sure to use lukewarm water rather than hot water to avoid burning yourself.
Get this at: Amazon
Sleep with a satin pillow
One of the most beneficial ways to keep your hair beard and look its best at night is to invest in a satin pillowcase.
While cotton and other materials may cause friction that leads to tangles, split ends, dryness, and frizz, a satin pillowcase allows hair to slide across the fabric.
One of the best benefits of a satin pillow is it seals in moisture and helps keep your beard looking shiny.
Get this at: Amazon
Brush your beard regularly.
Brushing your beard on a regular basis is essential for black men who want to maintain their facial hair.
This can be done with a special beard brush or any type of soft-bristled brush that won't damage the hair follicles. Begin by brushing the entire beard in an upward motion, following the natural pattern of the hair growth.
This will help to evenly distribute natural oils and keep the beard looking healthy.
Get this at: Amazon
Eat a lot of vegetables.
I know, I know… eating a healthy diet is a cliche saying, but it's true. You really are what you eat.
Taking care of your hair requires following a healthy diet that includes plenty of nutrient-rich vegetables. Eating a wide variety of vegetables can help you get the vitamins and minerals necessary for hair growth and health.
Vegetables like spinach, kale, broccoli, and Brussels sprouts contain essential vitamins such as A, C, and E that provide antioxidant protection and help to keep your scalp and follicles healthy, as well as provide the necessary building blocks for strong, healthy beard hair.
Drink water
Taking care of your hair begins with proper hydration. Drinking enough water every day is essential for keeping your scalp and beard healthy, shiny, soft, and strong.
Water helps to flush out toxins, keeps the scalp moisturized, and encourages hair growth. When you are well-hydrated, your hair follicles will be able to do their job more effectively.
Frequently asked questions: Best black men beard care products
Beard butter vs. beard balm
Beard butter and beard balm are two grooming products that are often used to help men care for their beards. While these two products may look similar, they have different purposes and benefits.
Beard butter is a creamy product that can be applied to a damp or dry beard. It is designed to deeply moisturize the beard and skin and to make the beard look full and lush.
Beard butter is typically made with natural plant-based oils like coconut oil, jojoba oil, and argan oil, which helps condition the hair for long-lasting softness. It can also help reduce split ends, tame flyaways, and add shine to the beard.
Beard balm is a thicker product that is usually made with beeswax and other waxes, along with butters and oils. It can be applied to both wet and dry beards.
Beard balm helps to condition the hair and skin, as well as provides a slight hold to help keep the beard in place. It also usually has a light, pleasant scent. The waxes in beard balm provide more hold than butter and can help shape the beard as well.
The key to using these products is to find the right combination that works for you.
Beard butters are great for moisturizing and softening the beard, while beard balms can be used to shape and control the style.
Together, these two products can help keep your beard looking healthy and well-groomed. Be sure to research different brands and ingredients to find the ones that are best suited for your facial hair type.
Should black men wash their beards every day?
Yes. It is generally recommended that black men should wash their beards regularly to keep them clean and healthy.
Washing the beard every day is recommended for us black men because we have very curly and/or kinky hair, so dirt and oil can get trapped in the hair and become difficult to remove without regular washing.
King C. Gillette Men's Beard and Face Wash
Get this as: Amazon
King C. Gillette Men's Beard and Face Wash can be used every day to cleanse skin and hair to remove dirt and oil gently.
Additionally, it included patented hair conditioning technology that has been created especially for beards, leaving skin and hair feeling soft and smooth.
Additionally, just like with any other type of facial hair, a black man's beard needs to be shampooed and conditioned too.
Shampoo helps to remove dirt and built-up oil. Conditioner helps to add moisture back into your hair (get it?! Conditioner conditions your hair), so you should be using both for your hair.
Here's a video from @Belliazere Fitness sharing how to wash your beard as a black man:
A well-groomed beard will make you look more handsome and stylish, and while there are many different products on the market, finding the best products for your beard can be a tough process.
I hope this article was helpful (as well as helped you find some black-owned beard products on amazon) so that you're able to find products that work well for you.
Have you tried any of these black men's beard care products? What's your favorite product for your beard? Let me know in the comments!